Mt Hull
Basics
Priority Landscape Category
20-Year Forest Health Strategic Plan: Eastern WA Priority Landscapes
Description
The Mount Hull priority landscape (or priority planning area) encompasses Mt Hull and surrounding forest and shrub-steppe in the Okanogan River watershed. Some currently dense forests occur on mollisol soils that historically supported open forest and meadow habitats. The total area is 69% private land, 21% US Forest Service, and 10% other land owners.
Fire risk to forests is high in the center of the planning are near the top of Mt Hull. Fire risk to homes in the wildland-urban interface is widespread in northern and southern portions of the planning area.
Projected warming over the next 20-40 years will likely shift climate conditions suitable for moist and cold forest towards conditions suitable for dry forest. Some low elevation areas that are currently forested may no longer support forest.
Treating 34-53% of forested acres (12,000 - 18,500 acres) is recommended to increase resilience and reduce fire risk to communities using a combination of mechanical, prescribe fire, and managed wildfire treatments.
Treatment priority is high in the south-central and western edge of the planning area based on fire risk, drought vulnerability, current forest structure, and fire transmission to communities.
For more information download the full landscape evaluation summary below. Data layers assocated with the landscape evaluation are available at https://bit.ly/ForestHealthData
Map
This map displays the simple location of forest health projects in this priority landscape along with optional additional layers that users can select to view including detailed project and treatment locations.
To zoom, hold down Shift and drag a rectangle.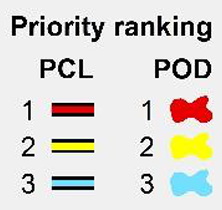 Projects can be associated with multiple Priority Landscapes, but the simple project location marker is mapped in a single location. Therefore some Projects may appear outside of the Priority Landscape boundary.